My Friends,, My Family, here at Rogue-Nations we care for each other.
Not long ago I received a PM from Our Very Good Friend and Fellow Family Member "DuckforcoveR" that his Father (Jim) has passed away.
So, So Very Sad.
I'll post part of the PM.
Quote:Hi there, I'm very sorry that I have been gone for a few days. I'm on sporadically but haven't had much free time. 




I'm probably going to be gone for a few more days now and I just wanted to give you a head's up. My dad didn't show up for work today and his boss (I have known the guy my whole life) called me at work around 7:30am to let me know that he didn't show up and wasn't answering his phone. I raced down to Milwaukee (about 30 minutes south of me) and ended up finding him collapsed on the floor. His heart just gave out on him, I couldn't revive him (and neither could the paramedics). 
Please remember his father in each of your own special way tonight or today for some of you.
His Fathers name was Jim and I and my husband have already started lighting candles and incense for Jim and DFC and his family.
As soon as I complete this post, we are both going to meditate and send as much Love and Comforting Energy as the two of us can towards our Friend DFC and his Family.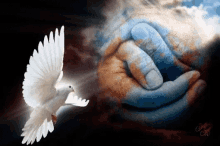 Once A Rogue, Always A Rogue!