Disclaimer:  I am in no way an affiliate or employee of
The Chembow
, or
Somewhere Under the Chembow
, nor I am receiving any monies or favors of any kind for sharing this information.  My only goal is to inform the public of Sharon's knowledge on Chemtrails and offer a way to fight their effect on our bodies and our atmosphere.
I watched a show on
Beyond Belief
with host, George Noory, a few weeks ago.  He had a guest, Sharon Schloss, whom has been studying chemtrails and the effect they have on our body.
Quote:After a thorough investigation into chemtrails and weather modification techniques, Sharon Schloss reveals what many have suspected about the strange crisscross patterns which dominate our skies. Humankind has long been at the mercy of the weather, but that is beginning to change. Advances have been made to control weather patterns with little regard to the lasting effects under the Chembow. This interview with George Noory was originally webcast September 30, 2015

Sharon Schloss, an anti-geoengineering activist and researcher is devoted to raising awareness and ending the climate engineering which is wreaking havoc on the environment and public health worldwide. Her research into these covert operations has led her to understand the chemtrail agenda and how we can remove this threat using orgone energy. She runs the websites The Chembow and the blog site, Somewhere Under the Chembow.
Source to the above article
I was very impressed with the many "orgonite creations" she has made herself that works like a shield to protect oneself and the surrounding area from the damaging effect the spray has on us.  During the show she demonstrates how the pyramid works using the items placed inside that work with the energy around us.
By placing these objects in the area of our home, workplace, etc., it creates a spiral of energy that some "sensitives" can even see as it reaches into the upper atmosphere and dispels the negative energy from reaching us.  
By placing many of Sharon's creations over LA, she actually created an area of blue skies with borders showing the surrounding skies filled with Chemtrail clouds.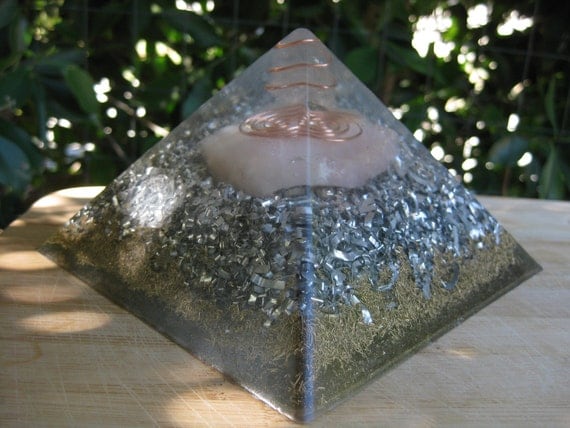 She also makes pendants that can be worn as a body shield with different crystals/stones that also have their own specific "power" that you can choose from.  You can view many more at her Orgonite online store by clicking
HERE
.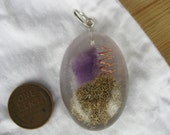 She shows how to make these objects on the show and explains the science of how they work. This woman knows her stuff!!
This is amazing information and needs to be watched by everyone around the world, IMO.  So, PLEASE, please, take time to watch the show and learn about the damaging affects of Chemtrails, and how you can prevent it's harmful effects by visiting the link(s) provided on the
SOURCE PAGE
.