My heart-felt condolences to the family of this young man. May he rest in peace.
Quote:"Our hearts are heavy today. The entire Badger wrestling family extends its most heartfelt condolences to the family and friends of Eli Stickley, our brother and teammate, who passed away last night," the team said in a statement. "Our thoughts and prayers are with Eli's family and friends."

Stickley, of Urbana, Ohio, was an Academic All-American wrestler and an NCAA qualifier.
The Wisconsin State Journal confirms:



From Urbana, Ohio, Stickley was an Ohio Division II state champion at 120 pounds in 2014 with a 50-3 record.




Stickley's family has a long history with Badgers wrestling. His uncle, Jim Jordan, won NCAA championships in 1985 and 1986 and was a three-time All-American. He now represents Ohio's 4th District in the U.S. House of Representatives.




Another uncle, Jeff Jordan, wrestled for UW from 1983 to 1986.


Stickley's cousin, Isaac Jordan, competed for UW from 2012 to 2017.

The vehicle Stickley was driving left the roadway, traveled into the right-hand ditch, over-corrected and rolled across both westbound lanes of traffic, according to the report. It came to rest on its passenger's side.

Jordan is embroiled in a NCAA-related wrestling controversy now over alleged sexual misconduct by the Ohio State team personnel decades ago.
Source
Here I am with my conspiracy theory again. 

Jim Jordan has been one pushing the hardest for Rod Rosenstein to release the unredacted documents to Congress in last weeks hearings, so I think the "accident" was a WARNING to him from the Deep State.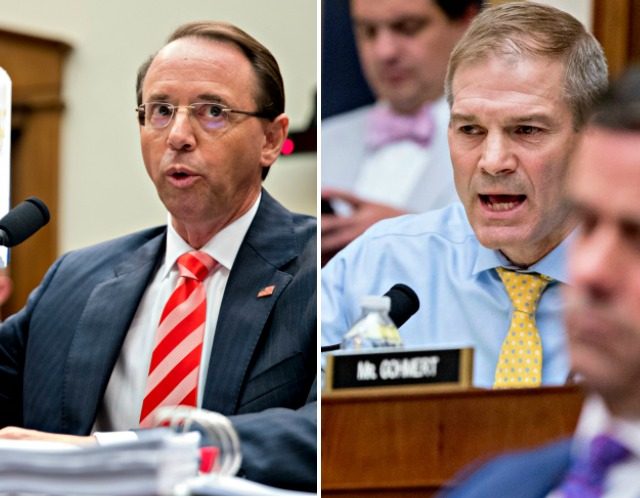 Quote:"Mr. Rosenstein, why are you keeping information from Congress?" Rep. Jim Jordan (R-OH) asked Deputy Attorney General Rod Rosenstein at a House Judiciary Committee hearing Thursday, setting off a fiery and contentious interview that saw both men slinging barbs at each other.

Read more here:  Source
Jim Jordan has also been the target of a smear campaign because he didn't report a sex abuse scandal that happened over 20 years ago.
Quote:U.S. Rep. Jim Jordan, R-Urbana, continued to push back against allegations that he knew that Ohio State University team doctor Richard Strauss was a sexual predator and failed to report the abuse when he was an assistant coach in the wrestling program between 1986 and 1994.

Jordan questioned the timing of the allegations, insisted that he would have acted if he knew of any abuse and contacted U.S. Capitol Police to report harassing emails from former Ohio State wrestler Mike DiSabato of Columbus.
On Tuesday, former athletes who wrestled for Jordan at Ohio State lodged the accusations in a report first published by NBC News.

MORE: Rep. Jim Jordan: 'I would have done something' about OSU abuse claims

DiSabato said that Jordan gave out a gave out a certificate each year called "King of the Sauna," to the person who talked the most smack in the sauna. Jordan, he said, hung out in the sauna daily and was there to witness some of the alleged voyeurism and public masturbation that has led the university to investigate Strauss, who died in 2005.
"Voyeurism is sex abuse," he said. "He saw it, he knew it, and he did nothing."

Jordan noted that the allegations arose a week after he grilled Deputy Attorney General Rod Rosenstein sharply about the investigation into Russia and the 2016 presidential race as well as during a period when Jordan is considering running for speaker.

Source
As we have learned in other threads involving "accidents" of high-profile people, sometimes things aren't what they seem, as reported by MSM. 
Considering "they" have hidden technology that can take control of vehicles now, I have to wonder if this is what happened.
Quote:From WikiLeaks' press release:


Quote:As of October 2014 the CIA was also looking at infecting the vehicle control systems used by modern cars and trucks. The purpose of such control is not specified, but it would permit the CIA to engage in nearly undetectable assassinations.


Source
Consider the information in the video below:
https://youtu.be/ODwClvf6hY0
Don't you find the timing of Jordan's nephew's death and the sex scandal to be 'convenient' as a way to throw Jordan off his game?
Yes, I may be a conspiracy theorist, but without us many corrupt individuals/organizations would never be brought to light. We dig deeper and usually find the REAL truth of the matter.
Thoughts?