Hello My Dear Rogue Friends. 
Some years ago here I made a thread about these Cauldrons in Siberia but I couldn't find it, so here it is again for anyone who may not have heard of this.
Quote:

Mysterious Cauldrons in Siberian Valley of Death Still Unsolved
I know that they have been studied by Russian Scientist (don't ask how I know) in the 70's and 80's and sometime in the 2000's because Beijing was Very, Very interested in them.
I also know that the Scientist became extremely ill very much like Radiation Poisoning.
There is a very classified report that one scientist did die after returning to Moscow Hospital. (this is not reported)
So, if your interested or maybe have something to add, here it is.
A frequently-seen drawing of a local on a reindeer inspecting a cauldron.                A drawing of what a cauldron might look like before sinking.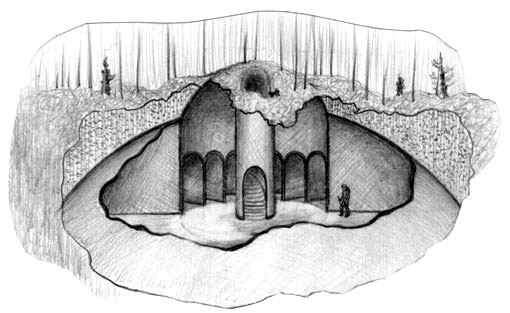 Quote:

A 

story

 popped up this week concerning a region of Siberia whose Russian name means "Valley of Death" and the mysterious partially-submerged metal cauldrons alleged to be seen there that have defied explanation and have been attributed to aliens. Are they some kind of warning or protection system? Could these be related to the mysterious 

Siberian craters

?



The video refers to an expedition – possibly in 2013 – to the "Valley of Death" (more about that later) led by scientist Michale Visok to investigate alleged giant metal cauldrons whose existence has been claimed in local folk tales.

The area was warm enough that the cauldrons were said to be partially submerged in marshes. While the report gave great details on the makeup of the team (3 geologists, 1 astrophysicist, 1 mechanical engineer and 3 research assistants), there was less on the metal objects they found (submerged in small pools 2-3 feet deep, metallic-sounding when walked on, smooth with sharp points on outer edges) and they somehow neglected to take any pictures!

There was a reference to another expedition to possibly cut into the metal but no later reports can be found.






Quote:According to earlier reports, the folklore of the cauldrons dates back to the formation of the Uliuiu Cherkechekh or Valley of Death some 800 years ago by a cataclysmic event like the Tunguska meteorite in 1908. Stories of fireballs, explosions and scorched earth sound like a similar meteorite impact. Were the metal cauldrons there already? That's where a different mix of folk tales starts.

An early report of a copper cauldron with only the top exposed dates back to 1853 but the most popular ones are about nomads who found similar metal ones in the 1930 and later who used them to get out of the winter cold until they became sick from them. What made them sick? Could be radiation.
Could be methane.

Could be aliens.



A popular explanation for the cauldrons is that they're a meteorite protection bunker system installed by aliens for humans in this area of high meteorite (and possibly even hostile aliens) area.
Okay, I'll stop there and if you want to read more: 
Source
I am Positive these mounds are real and I believe there are Alien.
What I'll say as of this evening, I noticed the Internet is Purged of information on these mounds, 3 or 4 years ago you could have found much more, including the documentions from the scientist and how ill they became and what they found.
All that information is GONE!
Once A Rogue, Always A Rogue!