04-30-2020, 06:18 PM (This post was last modified: 04-30-2020, 06:25 PM by Mystic Wanderer.)
Here we go folks. Let's try this again, only this time let's waste the tax payer's money on investigating how Pres. Trump handled the Coronavirus during the onset.
Russia, Russia, Russia didn't work, first round of impeachment didn't work, couldn't find anything about tax fraud during the Mueller investigation - maybe this will work!  

(DemocRats wishful thinking.)
Quote:House Speaker Nancy Pelosi on Wednesday appointed several high-profile Democrats who have been outspoken advocates of impeachment in the past to sit on a new committee overseeing the Trump administration's response to the coronavirus pandemic, prompting House Republicans to blast the effort as "impeachment 2.0."

Pelosi, D-Calif., and Rep. James Clyburn, D-S.C., who will chair the committee, announced six Democrats to serve on the committee:
House Financial Service Committee Chairwoman Maxine Waters, D-Calif., House Oversight Committee Chairwoman Carolyn Maloney, D-N.Y., House Small Business Committee Chairwoman Nydia Velazquez, D-N.Y., and Reps. Bill Foster, D-Ill., Jamie Raskin, D-Md., and Andy Kim, D-N.J.
You can finish reading this article here:
GOP decries 'impeachment 2.0' as Pelosi names top Trump critics to coronavirus oversight panel
I barely made it through the last impeachment hearings in The House having to see Schiff, Nadler, and many times, Pelosi everyday, but now I have to look at this bi+ch and Pelosi together.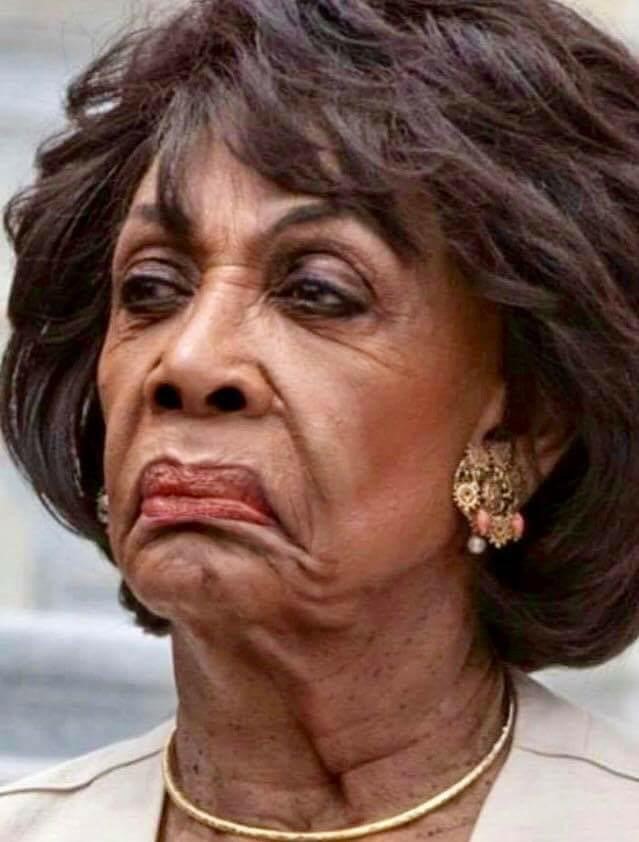 Is this what TDS feels like? Because I get physically sick when I look at Water's face. Sigh...  

Talk about a demon-possessed shell of a human!
Quote:Speaker of the House Nancy Pelosi unveiled the roster of lawmakers this week who will sit on the new Committee to investigate the White House's response to the Coronavirus pandemic; confirming Rep. Maxine Waters will be among the legislators.
REPORT: Pelosi Confirms Maxine Waters to Sit on Committee to Probe Coronavirus Response
Democrats seem to forget that they fought President Trump about closing the border so early, and we have video of Pelosi telling everyone to not pay any attention to Trump, come on out to China Town and party!
This won't go over well for them, and they will never win this case, but it's what they're going to put the public through again watching this clown show.
I hope things start opening soon so we don't have to be stuck inside watching this farce, because you know the media will have it front and center over any other news.