01-14-2018, 04:23 AM (This post was last modified: 01-14-2018, 04:34 AM by Mystic Wanderer.)
So, they are trying to tell the public that some employee pushed the wrong button during shift change that sent out an alarm to the State of HI to take cover for an incoming missile?  Okay...   good enough; go on about your day, nothing to see here. 
OR...  start digging to find out what the hell really happened!! 
Quote:
Hawaii emergency officials confirmed Saturday evening that an alert about an inbound ballistic missile was a mistake, which a state emergency official attributed to someone pushing the wrong button.

Vern Miyagi, who oversees the Hawaii Emergency Management Agency (EMA), said at a news conference late Saturday that while employees were changing shifts earlier in the day and doing a test of their ballistic missile prep checklist, the wrong button was pushed.


An emergency alert of Hawaii's Emergency Management Agency, which was sent to the islands early Saturday morning, read: "BALLISTIC MISSILE THREAT INBOUND TO HAWAII. SEEK IMMEDIATE SHELTER. THIS IS NOT A DRILL."

Rather than triggering a test of the system, it went into actual event mode. He confirmed that to trigger the alert, there is a two-step process involving only one employee — who both triggers the alarm, then also confirms it.

"There is a screen that says, 'Are you sure you want to do this?'" Miyagi said. The employee confirmed the alert, inadvertently causing a panic in a state already on edge over saber-rattling missile threats from North Korea. 

HAWAII TO SOUND WARNING SIRENS AMID NUCLEAR THREATS FROM NORTH KOREA
Hawaii Gov. David Ige said there wasn't a process in place to send out a message stating "that this is a false alarm."

"You know, we were not prepared for that, the fact that an alert was issued that was incorect," Ige said. "So we have that built now."
At about 8:07 a.m. local time, Hawaii citizens received an emergency alert on their phone that read: "BALLISTIC MISSILE THREAT INBOUND TO HAWAII. SEEK IMMEDIATE SHELTER. THIS IS NOT A DRILL."

At 8:20 a.m. local time, Hawaii EMA tweeted that there was "NO missile threat" to the state. However, the tweet didn't reach people who aren't on the social media platform.

Around the same time, House Rep. Tulsi Gabbard, D-Hawaii, tweeted: "HAWAII – THIS IS A FALSE ALARM. THERE IS NO INCOMING MISSILE TO HAWAII. I HAVE CONFIRMED WITH OFFICIALS THERE IS NO INCOMING MISSILE." 

Roughly 15 minutes later, the U.S. Pacific Command issued a statement, clarifying there was "no ballistic missile threat to Hawaii."
It wasn't until 38 minutes after the first warning — at 8:45 a.m. — that Hawaii's EMA alerted mobile devices across the islands that that initial alert was a false alarm.


At the news conference late Saturday, Miyagi said that there will now be a two-person rule implemented for sending test alerts and actual alerts. He also offered an apology for the stresses resulting from the false alarm.

"I deeply apologize for the trouble and the heartbreak that we caused today," Miyagi said, taking responsibility for the incident as he called it a result of human error. "We made a mistake."

He added that EMA will "hold off" on future tests of the system "until we get this squared away."

Gov. Ige said Saturday is "a day that most of us will never forget," a day Hawaii residents thought "our worst nightmare might be happening."
"I know firsthand that was happened today was totally unacceptable and many in our community was deeply affected by this," Ige said. "And I'm sorry for that pain and confusion that anyone might've experienced."



Hawaii House Speaker Scott Saiki said the system state residents have been told to rely on failed miserably on Saturday.
"Clearly, government agencies are not prepared and lack the capacity to deal with emergency situations," Saiki said. He also noted that the State House would begin an immediate investigation.

Many social media users posted footage of the emergency alert being broadcast on local television.

"The U.S. Pacific Command has detected a missile threat to Hawaii. A missile may impact on land or sea within minutes. This is not a drill," the television broadcast stated. "If you are indoors, stay indoors. If you are outdoors, seek immediate shelter in a building. Remain indoors well away from windows."

"If you are driving, pull safely to the side of the road and seek shelter in a building or lay on the floor. We will announce when the threat has ended. This is not a drill. Take immediate action measures," the broadcast concluded.

Fox News' Chad Pergram spoke with two people on the Kona side of the Big Island who said they were told to stay in their hotel room and that there was a missile incoming. 

One Twitter user posted a photo of a message board on a Hawaiian highway that read: "MISSILE ALERT IN ERROR THERE IS NO THREAT."


Well, you can buy the above story if it makes you FEEL better.  If not, and you would like to know what is really going on, take a look at some other information.  I'm not a huge fan of the Dinar Chronicles, but they do make better sense than some guy just accidentally pushing the wrong button.
Operation Disclosure
Quote:

Yesterday, Jan. 12, an anomaly was detected off the coast of Hawaii which held off the RV release.





Today, Jan. 13, the cabal attempted to nuke the Hawaiian islands and put the blame on North Korea.





(Sources have confirmed that the false alarm today in Hawaii was a cover story. The attack was real. The media had their "North Korea Attacks the Hawaiian Islands" story preemptively ready. The cabal panicked when the attack failed. A cover story was shortly made up and the attack was branded as a false alarm. The Emergency Broadcast System does not lie. Someone pressing the "wrong button" simply does not happen. This was another cabal attempt to derail the transition process by fabricating a war.)





Missile launches were detected in the Pacific Ocean off the coast of Hawaii.





The launches originated from the same anomaly detected yesterday, Jan. 12.





The missiles were immediately intercepted and destroyed.





The anomaly was revealed to be a nuclear stealth submarine.





The nuclear stealth submarine was located and destroyed shortly after the attempted attack.





Planetary scans did not detect any anomalies two days ago on the 11th.





The Alliance believes the submarine originated from another D.U.M.B. located somewhere in the Pacific.





The Alliance is now actively searching for said D.U.M.B.





All legal documents regarding the RV/GCR/GESARA are signed and sealed.





The Chinese Elders are withholding RV authorization until the situation has been resolved.





The Alliance expects to resolve the situation within a couple of days.





In the meantime, the Republic is preparing for the deliveries of the prosperity funds in the U.S.
And then we also have this post on one of the Chan Boards: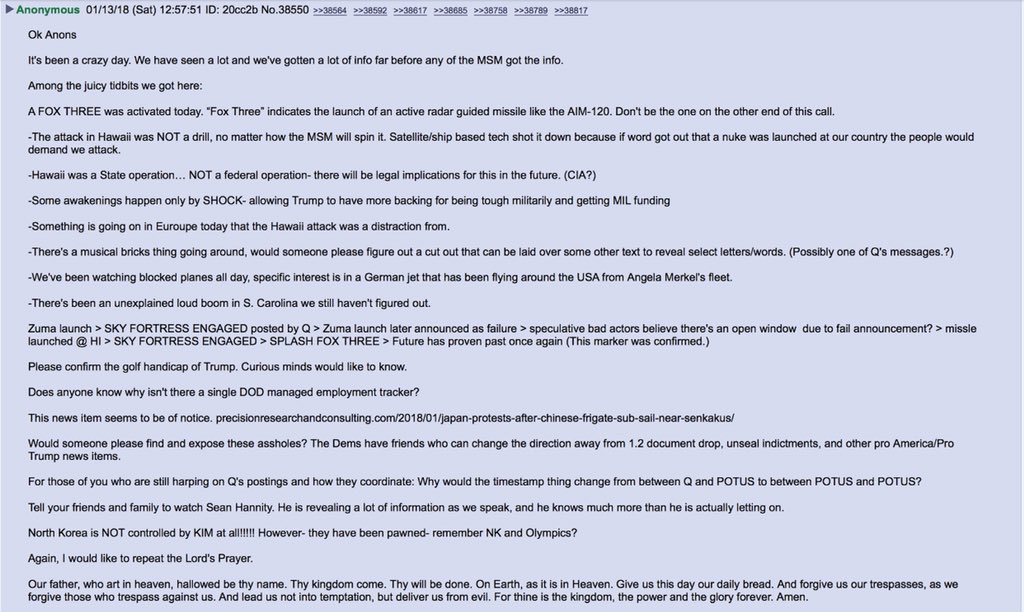 So, what do I think?  
I think this was a real attack by the Deep State trying to get President Trump to strike NK to get us into a war.  Thankfully, President Trump didn't fall for it. 
The thing they will use against him now is saying he wouldn't give the go ahead to strike back and he is putting the American people at risk.
I think he knows exactly what's he's doing; he knows who the players are, and he knew this was going to be a false flag, and he said he wasn't going to play ball with them.  I also think he knew we have the "advanced" technology to take this missile down, which we did.  President Trump would not put any of our people at risk of being blown up.  That's what I think.
ANOTHER FAILED ATTEMPT BY THE DEEP STATE!  CHECK MATE!!