If you haven't been visited by the electric company to have a new 
Smart Meter
installed on your property yet, consider yourself lucky. But, don't get too comfortable, I'm sure you're on the list to get one soon.
Some people aren't concerned about the dangers of Smart Meters, while others fight the system every step of the way to avoid having one.
Many people have reported ill health affects after getting a smart meter. 
Read this article:  
Scientific Studies Showing Adverse Biological Effects + Damage From Wi-Fi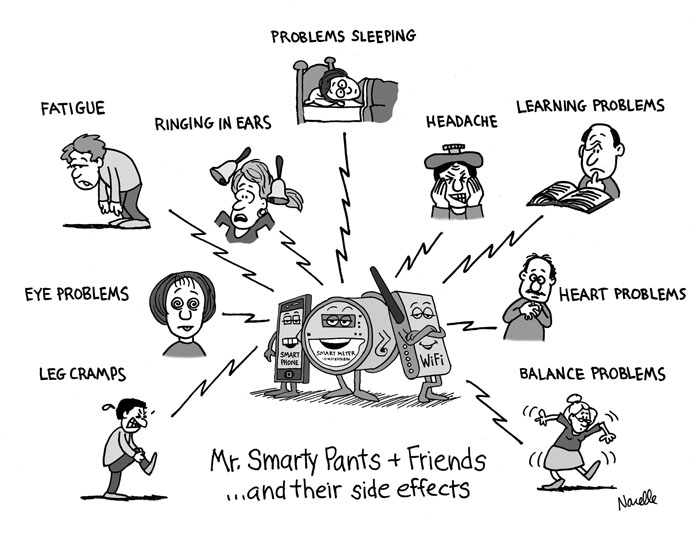 Of course, we can also attribute cell phone towers, wi-fi devices, and smart phones to part of this problem, so we need to eliminate all the EMF around us as we possibly can to avoid ill health.
Quote:The National Toxicology Program found a statistically significant increase in brain cancers from exposure to cell phone frequencies. http://ntp.niehs.nih.gov/results/areas/c...index.html

In 2015, 220 scientists who had published in peer-reviewed journals from 41 nations signed the International Scientists Appeal. Their warnings included cell phones, infrastructure, Wi-Fi, 'smart' meter/grid technology, as well as devices like baby monitors and commercial broadcast uses. www.emfscientist.org
You can read more on the above article
HERE.
Not only are smart meters dangerous to your health, but they are also a fire hazard.
Quote:

A fast-moving apartment building fire occurred on Thursday, February 6, 2014, in Bensalem, Pennsylvania when at least one

smart meter

exploded and caught fire.  Thirty (30) residents were displaced by the ensuing blaze at Bensalem's Thunder Hollow apartments.  Sixteen (16) apartments were affected.  One firefighter was injured.  According to the

Bucks County Courier Times

, the Bensalem Battalion Chief Robert Sponheimer said the

fire started in a utility meter in an outside shed

that housed electrical meters.  He also said

"residents reported hearing a loud bang, then losing power Thursday evening.  Within minutes they saw smoke pouring out of the shed.  The fire then spread to the building and its roof."

Dramatic camera footage exists taken soon after the fire started, during the fire fighting activities, and during the recovery efforts, making you feel as if you are "on-the-scene" as it happens. 

In the first video where you see the dramatic flames about 25 to 30 seconds into the video, they are emanating from an outdoor shed containing

smart meters

.
Source
And, there's more...
https://youtu.be/7MfiNYzdi24
Quote:This new video (above) explains in simple terms these new revelations from the insiders, as well as new court documentation and other insights.
The whistleblowers (wishing to remain anonymous) who contacted us have serviced and repaired over 200,000 meters in the field. They have been warning their supervisors about 'smart' meter problems for nearly a decade now. They have had enough of the lies and want you to know what they know.

On top of the explosive new details, the meters have at least

four major sources of arcing

. That's right — FOUR.
Arcing in 'smart' meters causes extreme heat, which causes fires. As we now see, it is beyond any shadow of a doubt that meter manufacturers know, utilities know, and regulators know. They have known the whole time, but they didn't want to tell you.

In this investigation the focus on two of the worst offenders, BC Hydro and PG&E. However, as this is a systemic problem regardless of meter type, we feature fire incidents from Texas, Ontario, Saskatchewan, Pennsylvania, Illinois and more.
Now, as if these aren't enough reasons to fight the smart meter, consider that they can be used to spy on you in your home!
Read the article below:




They are just now getting these devices in my town. A utility worker came by a few weeks ago to install one on my house.  I told him...
well, never mind what I told him. 

Point is, he didn't put one on my house!  He said I would have to pay extra for a guy to come out and read my meter.  I said that was fine by me.
Everyone needs to fight this, and fight it together.  It's just another
thing
the elite are setting up as a way to control us, and keep us sick, and I'm not buying it!